Certificate of Quality Management System that complies with requirements of STN EN ISO 9001: 2001
Range of accreditation competence is in fields: trade in military products, production and sales of hydraulic hoses and hydraulic components, servicing and sales of road and earth-moving machines including spare parts.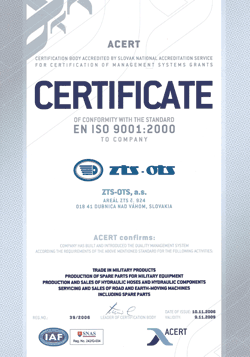 Certificates of conformity
- certificates published by Technical Testing Institute, Piestany, s.p. SKTC - 104 confirming that the quality of goods complies with technical requirements of Slovak Republic governem´s regulations.